MENU:
-Served until 6 pm
-Hot Food Menu Also Available for Call in Orders and Curbside Pick-up
Curbside prepared foods are available for pick-up Monday-Sunday
Hot Bar Menu
Sausage and Peppers
Thai Chicken
Three Pepper Beef Meatloaf
Ratatouille
Boiled Potatoes
Spicy Thai Tofu
Basmati Rice
NEW! Family Meal Menu
Your Los Alamos Co-op Market will now be offering heat and serve family-sized meals. Let us do the work for you. Our new Family Meal Menu is outfitted to serve your hungry crew, with larger pack sizes of the fresh-made products that are ready to go, just heat and serve! From soups, salads, and sides to an array of Lasagnas, Enchiladas, and Proteins. Using all the fresh, organic, and local ingredients you can always expect, our culinary team is ready to serve your home team. Times can be tough, but meals don't have to be! Call us at (505) 695-1579 and place an order for in-store or curbside pick-up today!
*Same day pick-up must be called in no later than 10 am, and a staff member will contact you with your pick-up information.*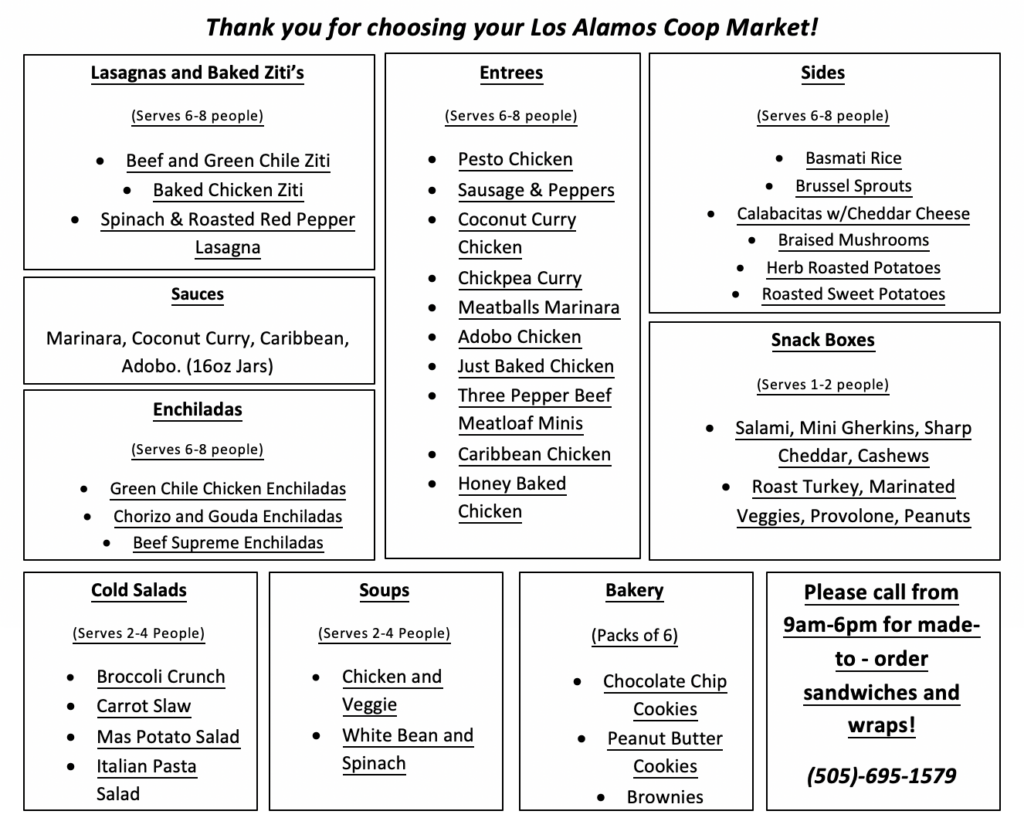 Packaged Prepared Foods Menu
Sandwiches
Pastrami Pepper Jack
Turkey Sandwich
Roast Beef and Swiss
Turkey Pesto Wrap
The Gatsby Sandwich
Roast Beef Sandwich
Ham & Cheddar sandwich
Pesto Provolone Wraps
Smoked Turkey and Gouda Wrap
Turkey Green Chile Wrap
Turkey Cobb Wrap
Greek Wraps
Baked Tofu Wrap
Black Forest Ham Sandwich
Flaming Pastrami Sandwich
Turkey Cucumber Sandwich
The Governess
Co-op Sheep Herder Sandwich
Deli Style Corn Beef Sandwich
Cold Salads
Italian Pasta Salad
Garden Variety Tuna Salad
Vietnamese Tofu Salad
Sweet Potato Salad
BLT Pasta salad
Italian Pasta Salad
Green Chile Potato Salad
Egg Salad
Ma's Potato salad
Turkey Waldorf Salad
Carrot Slaw
Broccoli Crunch Salad
Sushi
*Please call for availability
Egg Rolls
Stir Fried Yakisoba Noodles
General Tso's Chicken
Vegan Singapore Rice Noodles
Snacks
Niman Snack Pack Varieties
Organic Valley Snack Pack Varieties
Applegate Snack Pack Varieties
Co-op Made Snack Pack Varieties
Dolmas
Deli Hummus
Stuffed Pepper Delights
Hard Boiled Eggs
Bakery
*Call for availability
Muffins
Scones
Brownies
Cookies
Granola Bars and Balls
Biscottis
Croissants
Cornbread
Pastry Breads
Prepared Meals and Sides
Beef and Green Chile Baked Zitti
Italian Sausage and Spinach Baked Zitti
That Espanola Style Chicken
Roasted Sweet Potatoes
Chickpea Curry
Green Chile Chicken Enchiladas
Chile Herb Chicken
Chipotle Chicken Burritos
Korean BBQ Chicken
Roasted Red pepper and Spinach Lasagna
Ground Turkey Enchiladas
Turkey Enchiladas
Pesto chicken
Chorizo and Gouda Enchiladas
Chicken Baked Zitti
Organic Basmati Rice
Co-op Prepared Sauces
Vegan Pesto
Marinara sauce
Coop Curry Sauce
Homestyle Salsa
Sliced Deli Meats and Cheeses
McKenzie Oven roasted Turkey Breast
Beelers Ham
Boarshead Salami
McKenzie Buffalo Style Chicken
McKenzie Smoked Turkey
Boarshead sliced Cheeses
More to come!