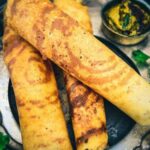 Thursday, January, 23rd from 5:30-7:30 pm
95 Entrada Dr. Los Alamos, NM
$25 for LACM members, $30 for everyone else
Please pay and register in advance at the Co-op front desk or by calling us at 505-695-1579.
Join us for an exploration of medicinal food! In this class, we will create medicinal mushroom dosas prepared with Ayurvedic spices and vegetables. We will discuss and explore the health benefits of mushrooms, the use of herbs to aid digestion and improve flavor, as well as preparation techniques that can carry over to other dishes. Tap into and start to live by the motto: "let food be thy medicine and medicine be thy food."
About the teachers:
Jesse and Johanna Boudreau are practicing herbalists, wild foragers, and educators with a homestead in Chimayo, NM.