Serving hot bar, salad bar, sandwiches, coffees,
and grab & go every day!
Rotating Weekly Menu – Gluten-free, Vegan and Vegetarian options!
Weekly Menu – Monday, Jan. 30th– Sunday, Feb. 5th
Monday: Sausage and spinach baked ziti, Chicken saltimbocca, Italian potato wedges, Zucchini pomodoro, Spicy Thai tofu, Rice, Soup.
Tuesday: Coconut curry chicken, Pork fried rice, Sesame roasted sweet potatoes, orange cashew broccoli, Tofu fried rice, Soup.
Wednesday: Honey baked chicken, Three pepper beef meatloaf, Green chile
mashed potatoes, Sunburst fiesta veggies, Seasoned pinto beans and
mushrooms, Rice, Soup.
Thursday: Carne adovada, Green chile chicken enchiladas, Calabacitas , Potato
wedges , Spanish rice, Pinto beans , Soup.
Friday: Lemon garlic salmon, Chicken pesto penne pasta, Herbed potatoes,
Vegetable medley, Braised mushrooms, Soup.
Saturday: Mediterranean Cod, Pesto chicken, Boiled buttered potatoes, Broccoli.
and carrot, Vegan chickpea curry, Rice, Soup.
Sunday: Carne adovada enchiladas, Chicken calabacitas, Southwest quinoa,
Southwest veggies , Pinto beans , Cilantro lime rice , Soup.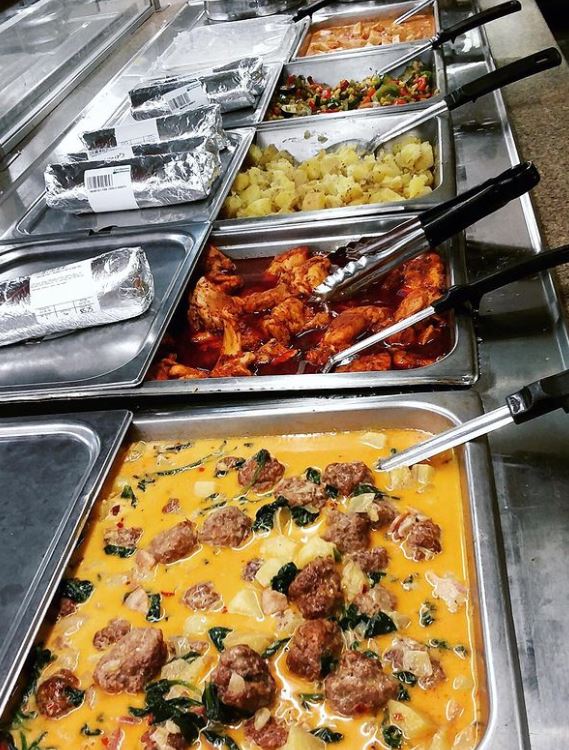 Catering available for your event!
We are here for all of your grocery needs!
If you are looking for our delicious breakfast burritos or are hungry for lunch, we have a great variety of hot bar dishes, soups, pre-made and custom-made sandwiches, salads, and always great vegetarian options.
We are also available to prepare catered food for your event.
Please call our deli to place a catering order, and to hear what we are serving and when it is available. The deli is currently open until 2PM. Our menu is different everyday!
(505) 695-1579 Ask for Deli!