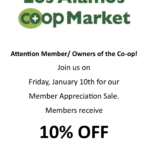 Please note that going forward into the New Year, we will be changing some of our member perks. We will NO LONGER have 5% days on the 5th of each month or quarterly 10% days. Instead, we will have 10% off on the 10th of every OTHER month. We think this will be more beneficial to you as a member perk and in regards to your savings.
We will start our 10% on the 10th in January, NEXT month. That means you get two 10% days back-to-back.
Stay in the loop! Join our monthly email newsletter campaigns to keep up to date on savings and upcoming Co-op events! Please email outreach@losalamos.coop with your email address and member number (if applicable) and we will add you to our email list! You do not need to be a member to join our email list.